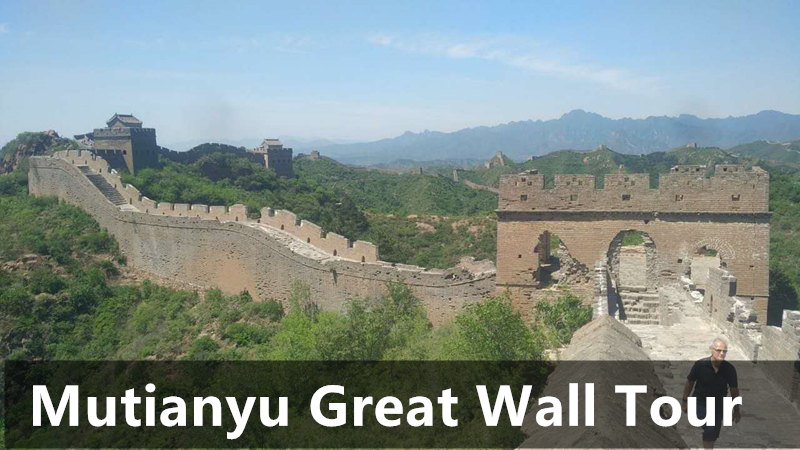 Mutianyu Wall (Chinese: 慕田峪; pinyin: Mùtiányù) is a section of the Great Wall of China located in Huairou County 70 kms northeast of central Beijing, According to customer experience, it has become the most popular section Wall in the whole 240 KMs distance Great Wall(Jinshanling Wall, Badaling Wall, Huanghuacheng Wall,Juyongguan Wall, Simatai Wall,Jiankou Wall, Shuiguan Wall).


Highlights of Mutianyu Wall:
less group tourist
popular Cable car and Toboggan.
Many restaurants at Mtianyu Wall.
Easy walking on Flat Wall.


4 Flexible Options for Hire Car(

Toyota Camry, 4 seats available

) with Driver/Guide to Mutianyu Wall Private Tour.
Option A: 650 RMB: Reliable Chinese speaking driver.
This option is for tourist who limited budget or young students.
Option B: 750 RMB: English speaking Driver andbetter option A.
The driver who have got more 50 excellent reviews on TripAdvisor.
He will help you by entrance ticket at VIP tickets windows and wait for you at parking lot.
Option D: 1300 RMB: Knowledgeable English speaking Guide& private vehicles, Top Level.
The guide will escort with you hiking on Great Wall and point out the best location for photo.

I would recommend this option if you want to know more history of China Great Wall.
Include / Exclude:
All of the above payment (The price is for per car with driver, not one person, ) includes the guide/driver salary, gas,highway tolls and parking fee. Drinking water will be supplied for free, but entrance fees (but our driver will helpyou buy tickets), meals, other refreshments and gratuities are not included.
Please pay deposit 64 USD(400 RMB, including exchange fee ) at our account on PayPal.com by your Credit Cards to confirm:
http://www.best-our.com/nshow.asp?nid=X4i=&c=2
This PayPal account is my our email: mark520bj@hotmail.com
Then pay the balance cash to driver.
Pick up at 7:30 am in your hotel lobby. it is about 90 mins ride from downtown to Mutianyu Wall.
(Recommended pick up at 7:30 am to avoid traffic jam and crowd, but pick up time from 6 am to 1 pm convenient)
Visit Wall 9 am-12:30 noon, visit Wall about 3 hours.

Lunch time12:30-1:30 pm (Optional)
Drop you off at hotel about 3:30 pm

Additional Info:
We provide All other sections Great Wall Tour:
(Jinshanling Wall, Badaling Wall, Huanghuacheng Wall,Juyongguan Wall, Simatai Wall,Jiankou Wall, Shuiguan Wall,


Do not hesitate to email me any questions

).



6-15 seats vehicles or bus costs a little extra , Do not hesitate to email me any questions.




Beijing Airport layover to Mutianyu Wall (60 KMs&70 mins ride) available. pick you up in airport lobby with your NAME and drop off at airport or flexible location.

No bargain, Nohidden costs, no shopping stop.
Mutianyu Wall entrance fee is 60 RMB P/P, child price 45 RMB P/P.
The cable car or Toboggan return ticket is 120 RMB P/P for return, 100 RMB P/P for one way.
There are other ways to get down, but this is usually the most popular.

The tour is in 8 hours,extra 100 RMB per hours after 8 hours if you need stay long time on Wall.


Bring snacks, its nice to sit down and have a snack on the wall.


Baby car seat cost 100 RMB / per day, please let us know your baby size advance.
We know all restaurants on the way to Mutianyu Wall, There are some restaurants and ATM at Wall Tourist Centre, Burger King and Subway restaurant and Chinese dumplings restaurant.


It is no extra charge to drop you off at other attractions, just like Forbidden city/Lama Temple, etc; But Summer Palace or other attractions not on your way back, so for a little extra cost. please let me know advance.



How to Book a tour: (You will get driver/guide further details after deposit)
In order to serve you and plan your itinerary better, can you please let me know in one time the following details:
-Which option(A, B, C,D) do you prefer
-Date of your booking
-Number of people in your group
-The hotel name, address or telephone number, where you will be pick up
-Your nationality and language
-Any special requirements/vegetarian/drop you off somewhere